Tuscany Italy – May 14-18, 2017

Cost: $2250  

Deposit: $1125 (by PayPal)
Tuscany, that amazing vibrant region of Italy, full of  life and beauty.  Your mind immediately conjures up images of verdant rolling hills, winding country tracks and of course, quintessential cypress trees.  Now you can spend 4 days on site with renown travel/landscape photographer Brian Jannsen as he instructs, and inspires you with the backdrop of this famous region.
Brian has been visiting the region and capturing these images on camera for many years. With this workshop he will teach you how to capture them too. You will be shooting famous locations such as Belvedere and the ancient hilltop villages of Montepulciano, Pienza and San Quirico d'Orcia as well as lesser known, but equally photographic areas.
Tuscany is also perhaps the greatest repository of art in the world, with artistic and architectural masterpieces from the Etruscans and Romans, through to the Renaissance and beyond.
All workshops are limited to only 5 people to insure individual attention. No minimum number of bookings are required to run this workshop so book in confidence that it will not be cancelled.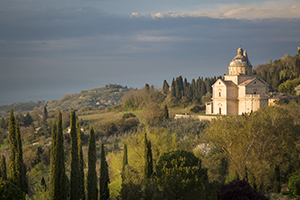 Included in price: 4 nights accommodation, Breakfast each morning, Closing evening meal, Ground Transportation, 4 days of Tour and instruction.
Not Included in price: Flights to Tuscany, Ground transfer to Tuscany Hotel, Lunch and Dinners, Travel Insurance.