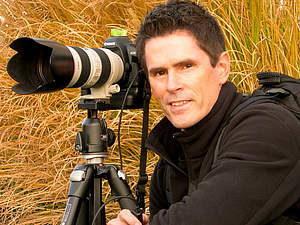 About Brian
I see skies of blue and clouds of white…
The majestic beauty of the Swiss Alps. A glittering Eiffel Tower in the Parisian night sky. Autumn in New England. It doesn't take a seasoned traveler to experience such sites. A photograph can factually document the scene, but the work of a gifted photographer—an artist at capturing the perfect balance of sight and ambience—can truly transport us to even the most exotic locales with just the release of a shutter.
For travel/landscape photographer Brian Jannsen, the creative capacity of the lens and the allure of nature's beauty are his inspirations. His images have been widely published in books, calendars and magazines throughout the world, and a browse through his portfolio quickly confirms Brian's natural gifting. His eye for perspective, attention to detail, and ability to make time stand still in a breathtaking moment, all align flawlessly in his work.
"Artistically, I feel like I'm taking God's creation and trying my best to capture little snippets of it that can hopefully convey some of its amazing beauty," he says. "The colors of nature, changing seasons, huge mountains, still lakes, small streams, waterfalls…there is so much to this earth. It's hard for me not to be inspired."
Yet for Brian, perhaps the thrill of the chase is his greatest motivator—the ongoing quest for images so compelling, they encourage people to travel, or simply to experience nature in a more profound way. It's bringing the world to the doorstep of others that ultimately fuels his fervor.
"You can capture a little slice of 'place and time' on an image and share it with people who aren't even there, but they can still feel some of the sensations as if they had been," Brian says. "In a small way, photography allows you to take people on a journey."
The bright blessed day, the dark sacred night…
Growing up in Oregon, the beauty of the Pacific Northwest gave Brian a great appreciation for nature, but it was years spent as a touring sound engineer in the music business that afforded him the opportunity to visit some of the most picturesque places in the world. Compelled by the differing landscapes and architectures of Europe, the Caribbean and throughout America, he began photo-journaling his travels. However, what started as a hobby quickly became an all-encompassing passion.
If photography is an intersection of art and science, certainly Brian's years in sound engineering—balancing the creative process of music and the technology of the equipment—could not have been a more appropriate parallel for his photographic career. Capturing an image in Germany several years ago, the similarities of these vocations became clear to him.
"I planned the shot in advance, visualizing how I wanted it to look in terms of lighting and perspective," he recalls. "The morning of, I crawled out of bed before dawn with horrible jet-lag, found my location and spent some time lining up the shot. I had to wait several hours for the lighting to develop. It finally did, and I was able to get the shot I had in mind. It was then I realized that with the right gear, timing, planning, and tons persistence, I could capture images that were inspiring to me."
And I think to myself what a wonderful world.
"My favorite shot keeps changing," Brian says. "Right now it's a wide shot of a little chapel in Tuscany. As the sunlight gave way to a rich golden color and the shadows began to add depth and interest, I saw something beautiful developing in front of me. The shot that I ended up with feels very much like what the chapel was originally intended for, a very serene, peaceful, quiet moment."
Indeed his timing, discerning eye, and creative sensibilities brought more than just a humble chapel into focus. Tuscany—a small of piece of it at least—suddenly got a little closer for someone who might not otherwise get to experience it firsthand. That is the true power of photography, and it's something Brian Jannsen has so eloquently captured.